PRESIDENT'S CLUB
ARIZONA STATE UNIVERSITY
SEASON KICKOFF INVITE
A7 CARD AND INSERT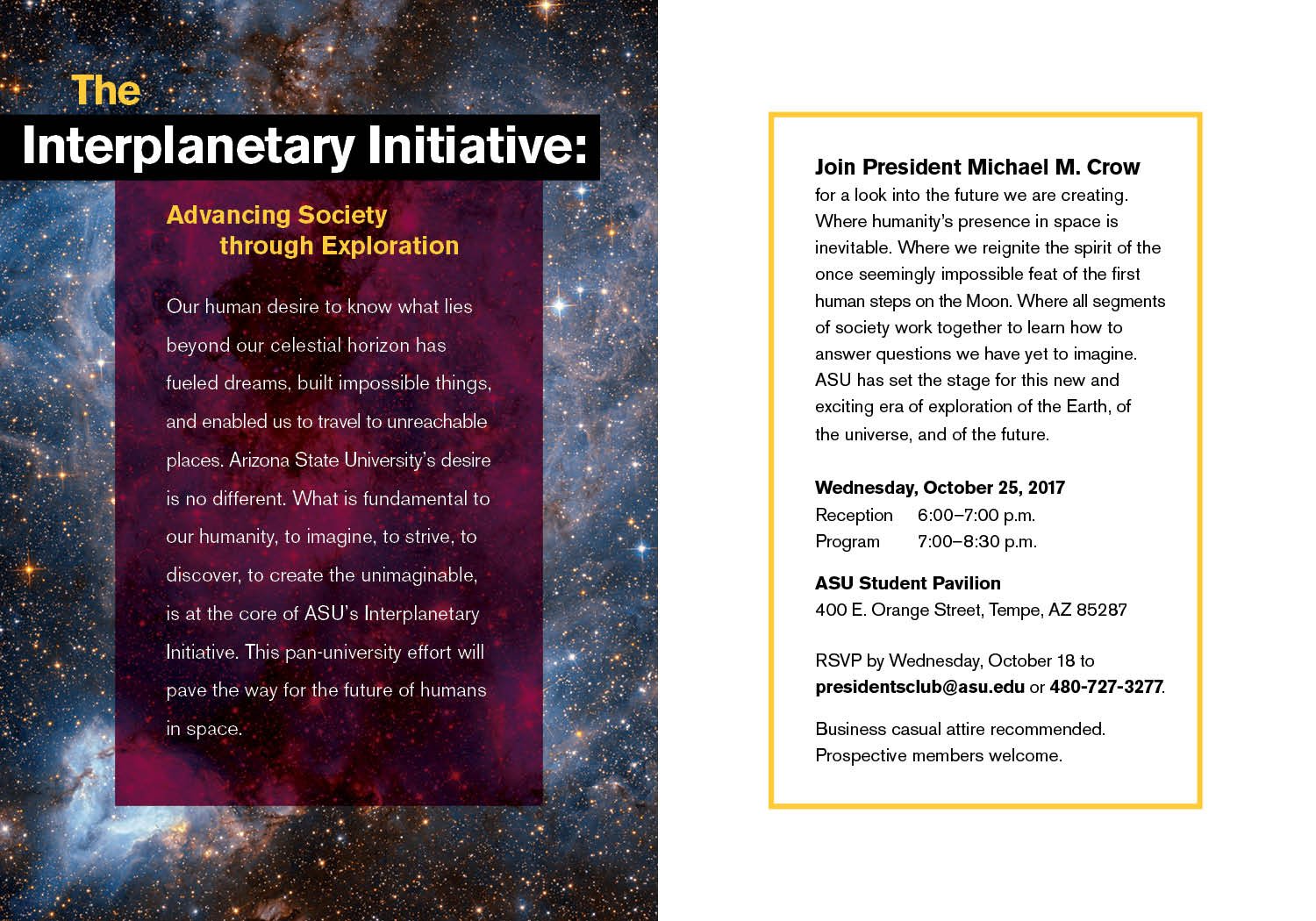 SPRING CELEBRATION INVITE
DISCOVER A BETTER WORLD HERE
M. Sanjayan
Guest Speaker
M. Sanjayan is an ecologist, writer, and news contributor who focuses on the role of conservation in improving human well-being, wildlife, and the environment.
His peer-reviewed scientific work has been published in such esteemed journals as Science, Nature, and Conservation Biology.
Raised in Southeast Asia and Africa, Sanjayan's unique background and expertise have attracted widespread media coverage. He is a Disneynature Ambassador, a Catto Fellow at the Aspen Institute, a member of the National Geographic Society's Explorers Council, and a distinguished professor of practice in ASU's Julie Ann Wrigley Global Institute of Sustainability.
He posts frequently from his expeditions at @msanjayan.
NEW MEMBER INVITE
SALT RIVER FIELDS PATIO IN SCOTTSDALE
PROJECT OVERVIEW
Invitation to a new member lunch event for prospective members of the ASU President's Club. The event was held at Salt River Fields Patio in Scottsdale. There was a spring training afternoon game featuring Arizona Diamondbacks vs. LA Angels that followed. Results: great attendance and many new people subsequently joined.
A translucent envelope wraps this invitation's folded ASU-gold petal enclosure, which houses two or more inserts.
PETAL SHELL
This square petal Invitation in ASU gold has four petals that fold to create a square invitation. This unique fold peeks though the translucent envelope. Paired with layered 6″ square flat cards that are interchangeable, thus allowing for invitation list segmentation needs.
HOLIDAY INVITATION
HOLIDAY DINNER AND ART SHOW AT SCOTTSDALE HANGAR ONE
MEMBERSHIP POSTCARD
ASU PRESIDENT'S CLUB THANK YOU
INCREDIBLY CREATIVE PROFESSIONAL
Lori is an incredibly creative professional. Throughout my time working with Lori she consistently impressed colleagues and donors with her unique work. From the delivery to the visual aspects of each piece she brought a new and refreshing look to all of our collateral.
Lexi is the former Senior Director of Development —Engagement Programs at ASU Foundation.
President Club members provide the ASU president with financial and intellectual resources, enabling the president to look beyond tradition, and to embrace entrepreneurship and innovation. Their philanthropic investments equip ASU to advance its charter.