Award-Winning Wall of Philanthropy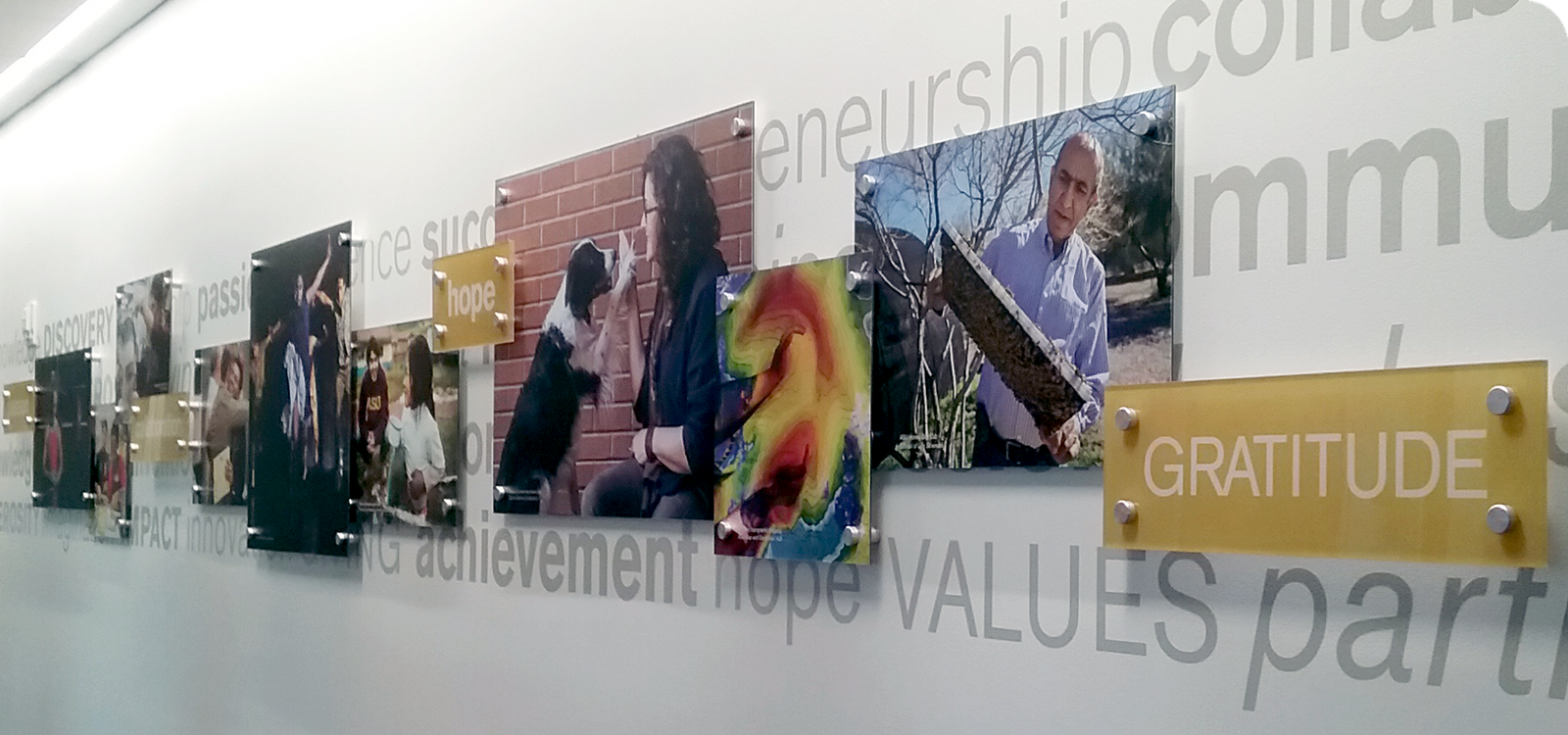 Project Overview
Since ASU Enterprise Partners is a nonprofit and their purpose is fundraising and philanthropy, this community meeting space needed to reflect what they're about in a modern and inviting way. The renovation made this space open and bright with lots of windows and views. The art reflects this modern feel with two long collages. The background is a flowing "river of words" in the adjacent gray wall color (Dunn Edwards "Lunar Landing"). This colored word pattern helps tie the east end of the conference center, past the center elevator area which faces the main conference room all the way to the west end of this space. The metal prints and words printed on the underside of 3/8″ acrylic in gold are situated at different levels using a custom standoff system with brushed metal hardware that matches the interior accents in the space. Lori worked with ASU's PrintLab, a student-run print shop with a large-format printer that was used to print the metal prints, the acrylic rectangles. They planned and ordered the complex, multi-level standoff system. PrintLab worked with a professional third-party installer, whose expertise is evident in the final results.

Project Details
Project: 3D Wall Collages
For: ASU Enterprise Partners
Market: Nonprofit
Date: July 2017
Note: Lori is an employee of ASU Enterprise Partners.
<!DOCTYPE HTML><!-- [et_pb_line_break_holder] --><html><!-- [et_pb_line_break_holder] --><head><!-- [et_pb_line_break_holder] --> <title>FlipHTML5 LightBox Embed Demo</title><!-- [et_pb_line_break_holder] --> <script src="//static.fliphtml5.com/web/js/plugin/LightBox/js/fliphtml5-light-box-api-min.js"></script><!-- [et_pb_line_break_holder] --></head><!-- [et_pb_line_break_holder] --><body><!-- [et_pb_line_break_holder] --> <img src="http://online.fliphtml5.com/asph/douf/files/shot.jpg" data-rel="fh5-light-box-demo" data-href="https://s3.amazonaws.com/online.fliphtml5.com/asph/douf/index.html" data-width="1080" data-height="500" data-title="Veterans at ASU university initiative case statement"><!-- [et_pb_line_break_holder] --></body><!-- [et_pb_line_break_holder] --></html>
See More Portfolio Examples